Revising distance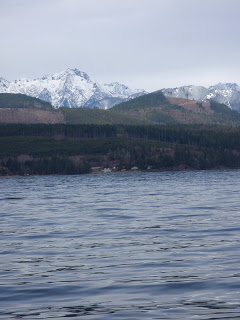 About a hundred years ago, or so it seems to me now, I went on a little kayak trip around Bainbridge Island. My paddling partner was Jason Boone, a good friend of mine who had just finished building his own kayak, and wanted to take it someplace interesting for its maiden voyage. I suggested Bainbridge – I'd never paddled around the island before – and he agreed, essentially leaving me in charge of the details. I took a cursory look at the chart, measured the route with my finger held against the shoreline, then estimated the distance by putting my finger down on the scale. (It is not a reliable way to measure, and I have since developed better methods.)
I came up with a total distance of about sixteen miles. Or, as I recall saying, "About sixteen, maybe twenty."
That afternoon we hit the beach at Fay Bainbridge State Park after covering more than 30 miles. The last couple of miles were a tough slog and we were both tired. I've always been impressed that Jason didn't lose his cool at my lack of accuracy. Even more impressed that he went kayaking with me on other occasions after that… I noticed, however, that he always did his own trip planning from that point on.
I have gone back to the chart again and measured the route I actually traveled this past weekend and revised the distances. The first day, as it turns out, was a little more than 12 miles. The second was less than six.
Part of what makes a day seem longer is the level of fatigue it generates. Miles are a measurement of pain and pride. I think the fact that I was as tired as I was has a great deal to do with the fact that, before I got on the water each morning, I had to ride the bike for two hours. I was already starting to get tired before I took my first stroke.
Aside from keeping me honest, the big reason I always need to come back and measure the course is that miles only really matter when you're telling the story. After the fact, mileage is a useful tool to understand the logistical elements of the route, but while I'm doing it, it couldn't be less interesting.
How far do I have to go? Until I get there. When you're doing it, that's all that matters.