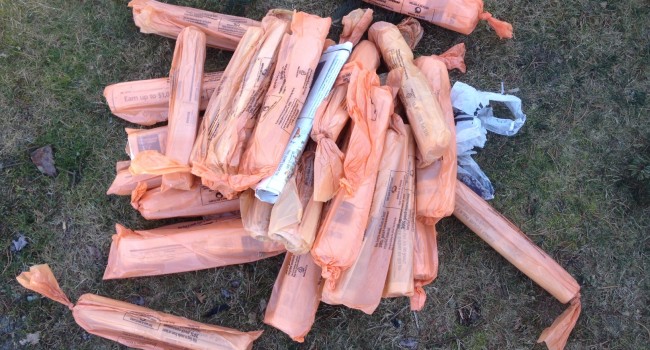 Return to sender
Posted by Ken Campbell February 15, 2014
0 Comment
1930 views
I will have more to write about this foolishness later. For now, a simple introduction is in order.
The bags you see in the photo contain advertising circulars from retailers of all sizes. These plastic ad-bombs are then launched into yards, onto sidewalks and roadways, and many eventually find their way to the storm drains. From there, it doesn't take much to get flushed out to sea. They are the work of the local newspaper, the Tacoma News Tribune, who is claiming the right to deliver these unsolicited items in this way is guaranteed by the 1st amendment. Seriously.
There are those who are doing something about it and if you live in or near T-town, you can be a part of that effort. There's a loosely-organized coalition of residents that have started a social media page and come together to collect these items and dump them on the TNT's doorstep. It's a fairly ingenious act of environmental jujitsu and it's refreshing to see it happen.
Environmentally Tone-Deaf BusinessStupid Ad CampaignTacoma News Tribune
About Ken Campbell