Return of the native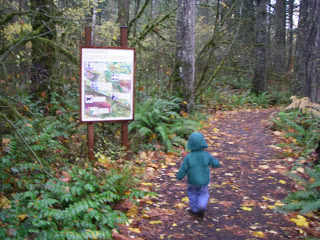 The boy and I went out to Kennedy Creek yesterday to see the salmon. The rain had been dumping at times over the previous 24 hours and I figured it wouldn't be great for fish-watching, what with the swollen creek and the silty water. We'd been talking about it for a few days though, and after a little discussion, some hemming and hawing, we decided to give it a go.
And I'm glad we did. We didn't see as many fish as we might have on other days and the water was cloudy and swift, but it was still well worth the drive.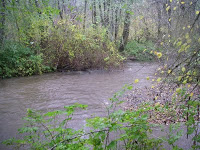 "They're fighting, Daddy," and "That one big fish there, Daddy." That's worth more than money, right there.
The Kennedy Creek Salmon Trail, not far off Highway 101 between Olympia and Shelton, is an excellent place to go see the way things used to be. The chum run has remained strong here, and there is something about watching these large, wild fish work against the current, battling for every inch, every foot.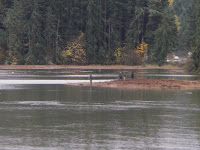 To see them as they struggle their way back to where they started from, back to their source, is a powerful scene, and one that anyone, of any age, understands instinctively.
There are several different viewing stations along the creek, from the point at which it leaves salt water on up to the tiny rivulets that tumble down from the higher elevations. Trail docents milled about and were available to answer questions, such as: "Why salmon have to die when he lay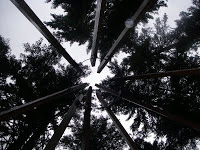 their eggs?" They were patient and Micah liked talking to them.