Research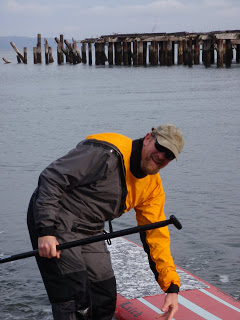 Looking ahead to my upcoming SUP trip on Hood Canal, I have been perusing the web for tales of other touring paddleboarders. There are a few, but not many. I suspect that will change very quickly.
One that I enjoyed was an account of a paddle around Cape Scott, at the northern tip of Vancouver Island. In addition to this trip, paddler Dave Collins has also done a 3-day trip in Mexico, where the general warmth and perfect conditions in the photos can't help but catch your eye. Definitely isn't Washington.
My plan is to paddle the length of Hood Canal, probably beginning in the south, near Belfair, and continuing up to Shine Tidelands, just north of the floating bridge. Total distance is just under 60 miles, although the duration of the trip is going to be extremely wind and weather dependent. I suppose if I wanted to be assured of the best conditions, I'd go in the summer, but I can't. I have other things I need to do in the summer.
One thing I'm struck by when I look at Dave Collins' pictures of his trips is the amount of gear he has strappped to his deck. On the Cape Scott trip, his deck is awash and the drybags filled with his equipment are piled high on the front of the board (which happens to be a Laird 12'1″, same as mine.) The bundle is massive and can't be easy to push around. I believe he travels with an extensive array of video gear in addition to camping supplies, but it still seems like more than I want to deal with.
My packing goal is to get everything I need for three days into a 39-liter zip bag. The bag itself is not waterproof, but its contents will be split into smaller drybags before being packed inside. Essentially it's ultralight SUPing, with all the lessons learned from superlight backpacking carrying over. Once I get the equipment set for certain, I'll weigh it and put a list together.
The big thing I learned from my fastpacking experience this past summer is that less weight really does bring more pleasure. I never once said to myself that I should have brought more stuff along with me, but I often thought how much more enjoyable everything was with less on my back. I'm willing to bet the same applies to the SUP.