Rescheduling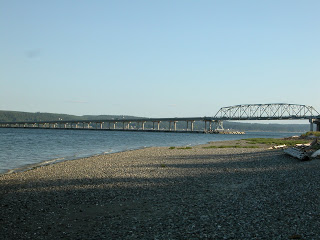 I've heard it said that life is something that happens to you while you're busy making other plans. That sounds about right.
I was scheduled to go to a 3-day ski demo next week up at Mission Ridge. To tell the truth, I was looking forward to it, maybe learn a thing or two… at least get a chance to see how some of the equipment works that I am busy dealing with every day. (This winter, I'm working as a ski tech, tuning, repairing and mounting skis. Ironic really, considering my relative ignorance of the sport.) The word came down a couple days ago that, due to budget constraints and the overall economic climate, we won't be participating in the demo after all.
I saw it coming and, although I am sorry that I won't be making the trip, it does open up some time, and I think I've come up with a plan. I'm going to use the time to rebuild our fence here at the house. It's a project that needs doing and with the time suddenly coming available, I may as well get it done. And then, and then…
Since I started paddleboarding last summer, I've thought it might be a good trip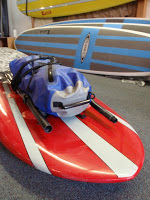 to paddle the length of Hood Canal. Start in the south and ride north to the bridge, taking the measure of the shoreline along the way. It would be an interesting voyage and I'm fairly sure it hasn't been done yet. I was holding out for a longer board – we are expecting some
Bark
14-footers in the shop sometime soon – but I got tired of waiting so I installed tiedown points on my board a couple days ago.
I figure that, even though a longer board would be better for flat-water touring, I would lose out on the surfing capabilities that a board like mine has to offer. While this is not likely to be a factor on any trip in Hood Canal, I can envision using my board to get to isolated coastal surf breaks this summer, and I want the ability to carry some supplies with me. I used 4″ raft loops from Northwest River Supply and secured them to the board with a generous helping of marine sealant.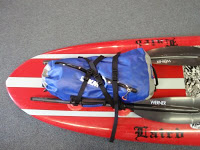 For a bag, I am using a WX Tex zip-top storage bag which, although it is not totally waterproof, is the perfect shape and weight for the job. Any items carried inside that must stay dry will be in individual dry bags.
So, the way I figure it is, if I can get the fence replaced by Monday night, I can pop into work on Tuesday morning, take care of whatever skis need servicing, and be out the door before noon. The plan, such as it is, will be to head out to Hood Canal for a couple of days of paddling… see how far I can get. That's all I've got right now. More to follow.