Remembering Sendai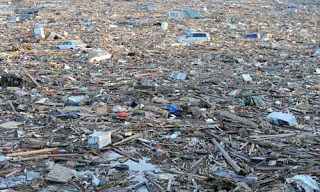 It was a year ago today that the powerful Tohoku earthquake and the devastating tsunami hit Japan. The quake was the most powerful to ever hit the Japanese archipelago and the combination of disasters claimed as many as 20,000 lives. Entire towns were leveled, homes and businesses destroyed and lives were changed in an instant.
Although it happened half a world away from the shores of the Pacific Northwest, the impacts are already beginning to show. Flotsam from the tsunami has traveled across the Pacific and is beginning to make landfall on the wild coast of the Olympic Peninsula. It's mostly big stuff so far, fishing floats, portions of boats and buildings, things that are driven not only by the ocean currents, but also by the winds. The smaller stuff will follow and should begin arriving en masse in 2013.
The Ikkatsu Expedition, set to begin in June of this year, will start to document some of this debris as it makes landfall along the beaches of northwest Washington. It's an exciting project and I know I'll have plenty more to say about it, both here and on the official
expedition web site
. For now though, it is time to remember those who died, to offer some small measure of condolence, and to contemplate just how fast everything can change.