Refugio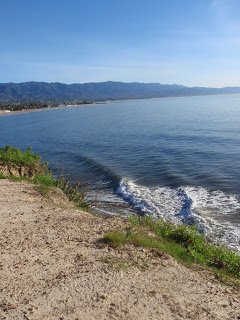 It isn't always beautiful, isn't always perfect. The golden glow of the sunset and the smell of jasmine on the evening breeze… that isn't always how it is around here.
But it was last week. A quick dip south, couldn't stay long. I took the board almost as an afterthought: It was on the car already. Turned out I really needed it. I was never on the water for long – there were other things I had resolved to get done as well in the short time I had there – but each session had its own unique feel and resides in my memory now in its own special vault. The waves were none too big, but there were a few good rides here and there, now that I think of it.
And the best part of it all was the temperature. I don't think it ever got below 60, and the days were in the low 70's. I've been pretty cold this past month, I don't know about you, and this change felt damn good to me. It all felt tropical, and came with the water temperature to match. At least, that's how it seemed to me.
As I look outside now, into the hard, gray and icy Northwest January morning, the last session of the trip is replaying in my head. Shortly after leaving Santa Barbara last Saturday, as the sun was still climbing upward into the impossibly blue sky, I stopped for a couple hours at Refugio State Beach. Intricate little cove, perfect sandy arc of a beach. As I drove along the waterfront parking area, all the camping trips of my youth that were spent here came back to me. I can see the hot dogs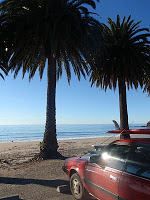 on the grill, can hear the sound of children at play, and I can feel the rush of wind flying past my ears, eyes tearing up, as I careen through the gravel lanes on my 10-speed in the easy evening light. I've always loved Refugio.
It even has a decent point break here as well, on some days. (This wasn't one of them.) There were a few lazy kneecappers and small tumblers; it felt sort of like playing tag, catching short rides and dropping off the back side of the little rollers. The sunlight sparkling on the water like fireworks as I paddled out beyond the kelp, my eyes on the muted greens and browns of the foothills behind the beach. Then I would turn and look behind me, find my wave and start to paddle. If everything went right, if I'd timed it all out and I ended up catching that wave, that was pure heaven. If I did it all wrong, it was still pretty good.
Hydrotherapy. Something good before the upcoming 1,100 miles of driving.