Recollectin'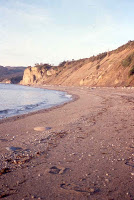 Ten years ago, on this date, I was almost two months into my kayak trip around Newfoundland. I left Rocky Harbour in the morning, crossed the broad, flat waters of Bonne Bay and paddled south along the coast. I remember that morning as the first summery-feeling day on the expedition; I set out in shirt sleeves.
The breeze came up later in the afternoon and it took a considerable amount of effort to get as far as Trout River (where I dined at the little cafe, on a cheeseburger and fries – hard living.) The wind was still blowing after I'd finished the meal, but it blew itself out by evening, and I glided on shiny waters to a campsite above a sandy shore. There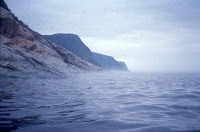 were a dozen or so fishing shanties further down the beach, but I was the only one around.
Like a chain, made up of different and unique links: that's the way I see the coast of Newfoundland. On my journey, July 14th was the day I began the Lower Left-Hand Corner of the island, the link between The Northern Peninsula and the South Coast. It was a long summer day of big miles and hard paddling, but also of great beauty and wonder. I can still see the high, bare summit of Mount Gregory rising above the beach at the end of the day, its rocky faces caught in the full light of the evening. Across the water to the west – 50 miles? 100? – is the St. Lawrence River and the coast of Quebec.
As I think about it now, it's hard not to want to return, to do it all again. Since I made my trip, there have been a dozen or so who have kayaked around, but it's still a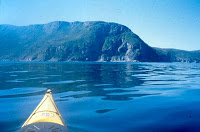 pretty small group. I always joked that I could be the first to do it twice, but the reality is that I don't feel drawn to recreate what was already a perfect experience.
Of course, nobody's taken a paddleboard around Newfoundland yet…