Reception time; adventure to follow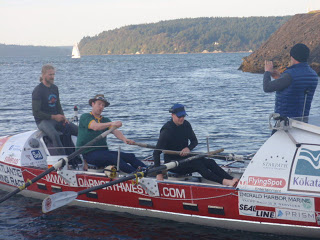 A few evenings ago, I went down to the Foss Seaport for a function involving O.A.R. Northwest. I was able to get a close look at their ocean-going rowboat – the one they'll be taking on their upcoming trips
around Vancouver Island
and across the Atlantic, from Africa to South America. It's stripped down at the moment, patched and sanded, waiting for a new coat of paint and the inevitable slew of sponsor stickers. It is an impressive craft.
These are burly expeditions and the crew are, in my estimation anyway, very fortunate men. There were quite a few people there at the event last Friday, including patricians from local government and the University of Puget Sound, where all of the original crew members began their rowing careers. I did not, however, get the feeling that any of the food and beverages, the chit-chat and the presentations, were what Jordan, Greg, Adam and Richard really cared about. (Don't get me wrong, the rest of it was all good, and each of the crew members did an excellent job of speaking and educating their audience.)
But there is a pull exerted by the open sea and anyone who has been out on the swells in a small boat has, somewhere down inside, a burning desire to go back. This desire gives itself away in little clues, the tilt of the head and the gleam in the eye. These guys want to get back out there and it shows.
By the time I left, I was feeling the same way.