Radio update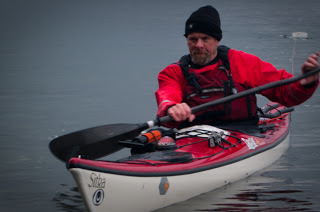 The photo above comes courtesy of Steve Weileman, one of my paddling partners on the upcoming Ikkatsu Expedition. He took it when we were going around Vashon Island back in March, our first shakedown cruise in preparation for the coast survey. (It also happened to be the first time I pulled the trawl net, which is why I look like I'm working so hard – because I was!)
Anyway, after I got bumped from the radio show on Tuesday, I was a little gun-shy about announcing it again, just in case I got moved another time. But it will be on today and, through the magic of the internet, you can actually listen to it now. If you go to the
web site
and then click on the "Listen Now" button on the right side of the page, today's show comes up. (My segment follows the Nantucket doctor, about halfway through.) It looks like it will be there for a few days, anyway.
Hope it sounds ok…
Steve has a new post up on the
Ikkatsu web site
too, about how it all seems to be coming so fast. That's exactly what I was thinking.