Pummelized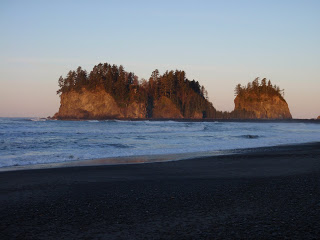 The La Push Surf Pummel, 2010 edition, went off this past weekend. I have been going to La Push to kayak since the mid-1990's, at every month of the year, and I have never seen conditions like they were this time. Dazzling blue skies, blazing sun, big waves and temperatures touching 60 degrees.
In February. There have been many days in August that were not nearly as warm and inviting and I've never experienced three days in a row of such perfection.
I spent the first afternoon on the SUP, getting schooled in the way that big surf and strong currents combine to manufacture pain. I got worked on one side of the beach, paddled around the breakwater to look for something different, then worked all the way over to Second Beach and got beaten up there before the long paddle back. Swells were huge, 12-20 feet, monstrous slabs of water gradually
tipping forward as they sped toward the beach, where they formed powerful barrels (and I swear some of them had teeth.)
I was not clicking with the surf scene all weekend. Whether it was the size of the waves or the complicated rips and currents that had me in the wrong places at all the wrong times, I don't know. The offshore wind, which held the shape of the waves together nicely, was also detrimental to my efforts, in spite of the fact that a good offshore blow is what surfers always hope for. It was strong enough though, especially by the last day, that when I would turn toward shore and paddle hard to synch with an
incoming wave, the wind held me in place, and I wasn't able to get enough speed in time to catch a ride. That happened a lot.
There were other surfers there and most of them were better than I was, but everyone got their share of abuse.
Fortunately I had remembered to bring a kayak (the Pummel is a kayaking event, after all). Short trips, an hour or two around James Island and beyond, another foray to the stacks off of Second Beach, made up for any lack of success I may have felt in the surf zone.
And, as it turned out, I caught some excellent rides in the kayak, flying down green faces, being chased by mountainous white water as the waves dumped behind me,
then surfing the pillow as it reformed and broke again. SUP is still new to me; I don't have 25 years of experience to draw from like I do in the kayak.
Mary got out on the SUP for a while, her first experience
standing up in surf. It was a tough place for a first lesson, but I expect she'll be much better than I am at it very soon. The boy had a great time as well, and is already looking forward to the next time.
On Sunday afternoon, an hour or so before we left town, Marc and I were out among the stacks near Crying Lady Rock. The big swells were broken up by the rock gardens, but they were still big enough to keep us twitching at our paddles with one eye constantly checking out the incoming action. Rounding one of the rocky outcroppings, passing the spray and heading into deeper water, I found myself in among a small pod of harbor porpoises, surfacing on both sides of me. They rode the same swells that were pushing me onward and, after a few exhalations, they were gone.
The event itself was a haphazard affair, which is kind of what I expected. La Push does not lend itself to strict regulation, about anything. Organization was kept to
a minimum and it seemed like everyone was having a great time. I will be going back next year…