Puget Sound Challenge – Day 4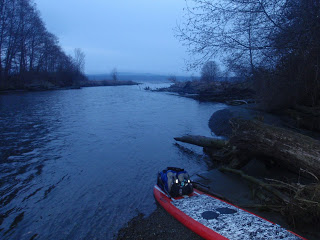 My internal alarm clock (apparently located near my bladder), woke me right at 6 AM. Forty-five minutes later, I was packed and ready to depart. I rode the river out to salt water, until it got too shallow where it fanned out toward the canal. I spooked a couple of dozen harbor seals from their slumbers on the flats – didn't see them until I was almost on them – and they flopped out toward deep water, eyeing me curiously. The wind was already blowing hard.
The first course of action for the day was a crossing to the south tip of the Toandos Peninsula, that narrow strip of land that divides the larger expanse of Hood Canal from Dabob and Quilcene Bays. The main problem with the plan was the quartering headwind that was building by the minute, pushing me further into Dabob Bay as I slowly approached the Toandos. It took me about 80 minutes to make the crossing, but my landing spot was almost a mile further in than I'd wanted to be and I was beat when I got there. 8:15 AM and I felt like I could sleep another night right then.
The second day of any trip is the hardest for me, especially when the first day has been tough. To leave the beach and progress along shore would have meant that I'd have been headed directly into what had become a sustained 25-knot wind, with gusts that were even stronger. I didn't have it in me.