Puget Sound Challenge – Day 10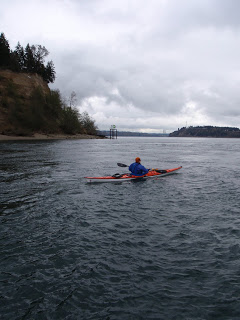 In two decades of sea kayaking, I have paddled the waters between Tacoma's Titlow Beach and Point Defiance more than anywhere else. For six glorious years, I was fortunate enough to live at Salmon Beach, a community of homes stuck between the sandy cliffs and the Tacoma Narrows, and I was able to get out on the water almost every day. It is a beautiful and powerful place, and home to some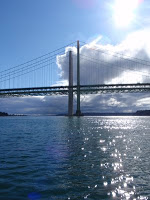 of the trickiest currents and most difficult paddling conditions south of Deception Pass.
We got lucky again with the weather though. No rough stuff today. It was something of an afterthought to get out on the water, but the stars aligned and our job schedules made sense to give it a shot. The weather had been threatening earlier, but by 2:00 PM, the water was glass and all breezes had disappeared. We – Jackie, Chris and myself – put in at Owen Beach, after doing the shuttle, and headed for the point.
The current was building and before long, we were working our way through the rip that was starting to develop at the north end of the Narrows.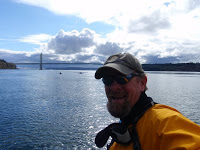 Flood currents form a rip at Point Defiance that can stretch halfway to Gig Harbor sometimes and although we were still an hour or so before maximum flow, the water was confused and lumpy already. A strong eddy had begun to form that recirculated water back into the rip, so we had to take a wide turn around the point to escape the pull of the hydraulics.
Soon, we were abeam Salmon Beach. We went ashore next to our old house and I walked up to Emily's place at #39.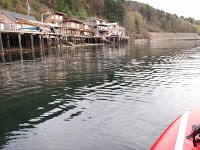 (Emily is our old next door neighbor.) She was just getting ready to head to work but she invited us out onto her deck to enjoy the view. The bridges shimmered in the distance across the silky water and the clouds began to break up, giving us our first glimpse of blue sky all day. It is hard for me to accept sometimes that we no longer live at the beach; I miss it everyday.
From Salmon Beach, we rode the powerful currents south under the bridges and into Titlow Beach, just north of Day Island. Gliding toward the shore, slipping effortlessly through the flat water, I wanted to do it all over again.