PSC 2010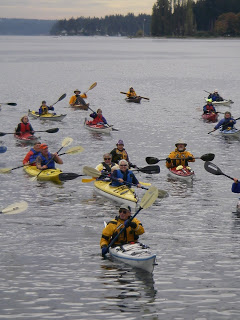 The Olympic Kayak Club is putting together another
Puget Sound Challenge
this year, with a slightly different route. From Port Townsend to Allyn, (it's billed as being 150 miles, but it doesn't seem like it's quite that far – I'd have to check), the route covers much of the same area as last year, but without the long leg up Hood Canal.
I enjoyed doing the Challenge last year and I would recommend it to anyone who is looking for new paddling locations and experiences. The act of attempting a long trip, even one that is broken down into distinct sections, changes the way you'll look at paddling. A kayak (or SUP, for that matter), takes on a different feel when it's used for real travel, rather than haphazard recreation. A good touring kayak is much like a thoroughbred: it wants to move.
Another reason I support this program is that it emphasizes the adventure and discovery aspects of sea kayaking, something that the industry itself has all but given up. There is still a legitimate high-end touring application for sea kayaks; it doesn't have to be cheap, cookie-cutter, plastic tub toys all the time. Get in a boat that's made to travel, and start traveling. The Olympic Kayak Club gets it, even if the paddle sports industry doesn't.
This year's route will be largely incorporated into the Olympic Grand Circle expedition, so I may as well do it again. I mean, you know, as long as I'm out there.