Protection Island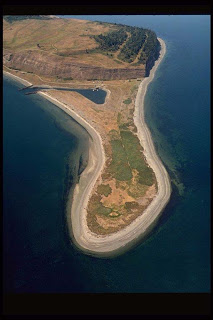 I have been to Protection Island. Have actually stood on the beach, which any kayaker knows is not allowed. It's a wildlife refuge, after all, off-limits.
Protected
Island. A place hidden in plain sight, close enough to touch but just out of reach. I can explain, of course, and I will in good time. But there is so much to tell.
For instance, I had no idea that someone actually lived there.
Protection Island sits in the strait just north of Discovery Bay, about five miles to the west of Port Townsend. In 1965, it was purchased by a group of investors (for a paltry-sounding $275,000), and divided into what would be about 800 vacation parcels. A marina was begun and a few cabins were erected. The way I heard it, no one saw the almost complete lack of trees as a problem, or as an indicator of the winds that
frequently savaged the island. It's stuck out there on its own, for God's sake, a naked stone in the margins of the longest fetch in the Salish Sea. You gotta figure it's going to get raked by the wind.
And it was.
What did it in as a vacation destination turned out not to be the climate, however. Because of its isolated position, it was ideal nesting habitat for thousands of sea birds, most notably the endangered rhinocerous auklet. The fact that the island provided a rare safe environment for birds, combined with the periodic hurricanes, led to the guv'mint declaring the area a wildlife refuge in 1982, and allocating $4 million to buy out the property owners, most of whom hadn't built anything on their land.
There were some who had built though, and a few of these didn't want to leave. A settlement was reached with the remaining residents and part-timers, whereby they could still access the land and their cottages, b
ut would not be able to pass them on. When they died, their claims to the land died with them.
I have heard of a man, one Marty Bluewater, who reportedly still lives out there. The only full-time, year-round resident from what I've been told, a king on his own island. May as well be. It sounds like a dream to me. I would like to meet this man.
As to why I was there once, it's really not that interesting. I was kayaking with a couple of friends, and I'd been told about a possible loophole in the no-going-ashore directive by someone who made maps for a living. He told me there was an overlap of ownership at the islands western end and that going ashore here, while frowned upon, was technically legal. I don't know if it's true or not, but it was winter, a beautiful day, and there was no wildlife in the area at all. The gulls had moved south, for the most part, and the seals were all hauled out on the west end of the island by the marina. I decided to choose forgiveness over permission, as I have done on so many other occasions.
I beached my boat and got out for a minute or two, then got going once again. I wasn't there long, but I was there. And I'd like to go back.