Proper prior planning prevents poor performance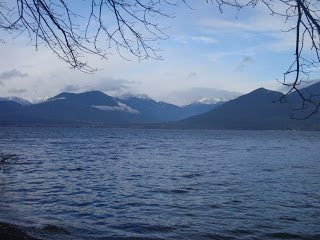 I've been looking ahead to the summer, already trying to figure out how to put three months of trips, projects and obligations into the four-and-a-half weeks that will be allotted. The key, I think, is going to be a combination of the "6 P's" and a sense of what the Air Force used to call "rigid flexibility." The year has already presented its share of surprises and it has the feel of a year that is going to require the ability to ad lib, to revise, and to adapt.
One of the ways I was thinking about saving a little time was to change the route of the Olympic Grand Circle, due to begin this July. The itinerary as it stands calls for me to canoe down the Black and Chehalis Rivers, SUP my way from Aberdeen to Neah Bay, then kayak from there back to Olympia. I've always been planning to stay to the east of Bainbridge Island and work my way down Puget Sound but I recently began massaging a different idea.
It would save time and miles if I made a turn to the right just after Port Townsend and headed south down Hood Canal. Once I got to the end of that long drink of water, I could portage the kayak across the narrow carry to Allyn, and then Olympia is an easy day-paddle away. By excising the Kitsap Peninsula and the rest of it from the picture, I might save three days, maybe more.
I don't know though… it would mean that the circumnavigation would not be done entirely by water. It kind of plays against the idea that the "peninsula" is really an island. There is a decent argument to be made for the Hood Canal route, but I don't think I can make it. After giving it serious thought, I believe I'll stick with the planned route. I've gone back and forth on it, but the trip would lose a chunk of its contrasts if I didn't return via the Sound. The contrast of the urban waters with the wild coast of the week before, for example. The human history of Puget Sound and the unspoiled beauty of an immortal shoreline.The canal is neither wild nor urban; it is what it is, but it doesn't fit in this picture.
I will have to look elsewhere for more time.