Probably running tomorrow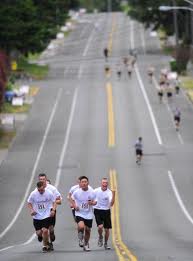 I'm still getting out in the mornings. Mostly on the SUP but I'm also doing a little running as well. I have this crazy idea that I might do a few races this year – nothing complicated – like a few 5k's and a 10k, maybe, on my way to doing the Sound to Narrows this June.
I did the Sound to Narrows 20 years ago. My "Running Year," is how I think of it now. I had always wanted to run a marathon so, in 1992, I trained religiously, ran some shorter races over the course of the year, then did the Portland Marathon in the fall. I did ok, as I recall. No records were broken but I seem to remember being satisfied with the results. And I haven't run a whole lot since.
But I think I'd like to give it a try again this year. (The Sound to Narrows part, not the marathon part.)
But, truth be told, at 4-something on a rainy winter morning, I'd rather be on a SUP on the Foss or in the Narrows than on a run through the darkened lanes and trails of Point Defiance. There's just something about walking on water.
* * * * *
Update: Nah, I went paddleboarding.