Pressure drop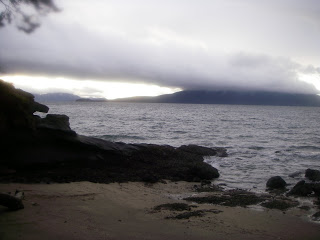 Thirty knot winds all day, and gusts even higher than that. I could hear the wind in the trees before I got out of bed and it's been in my ears all day.
I have a long-running uneasiness with the wind, I guess. I first felt it in Newfoundland, ten years ago. I wrote about it this way in Around the Rock:
The wind is a living thing, scouring the land and worrying the water as it seeks me out. Always, it seems, meeting me head-on, slamming into me as I paddle with all the determination I can muster. I feel as though I am locked in a battle of wills, my desire to continue matched against the sentient wind, a malevolent force that wants to see me broken and defeated.
I don't know that it was that bad today… but I didn't get on the water anyway.