Plasticized, part 2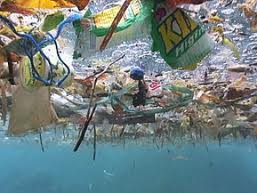 I don't want to be depressing. It's already a foggy, rain-soaked morning and it doesn't need any help from me to seem more gloomy. The Ides of February, as it were. But I've been doing a bit of reading lately – "Reading rots the mind," Ed Abbey used to say- and I've been reading a lot about plastic. I've got a project coming up this summer where plastic figures to occupy a central role, and some of the reading I'm doing to prepare is downright depressing. Ignoring it wouldn't be right either though… here's a small sample.
– In some areas of the northern Pacific, small pieces of plastic outweigh the amount of plankton by a ratio of 6-1.
– The United Nations Environmental Program estimated in 2006 that every square mile of ocean hosts 46,000 pieces of floating plastic.
Those are harsh facts. I hope the day improves from here.