Paper routes and chain saws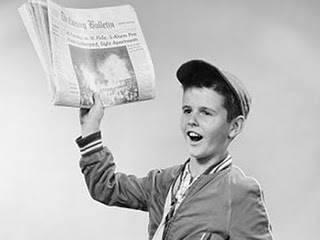 The snow that we had dumped on us earlier in the week is gone, or mostly gone. There are still some folks without power, although that scene is about over as well. It's back to normal, or whatever normal may mean, anyway. The wind is still with us though, and is expected to continue, knocking down the odd tree here and there.
Speaking of which… I'm doing the paper route down at the beach this week. I'm the replacement for the regular paper boy (who's actually 71 years old and having some medical issues), and I'm not exactly sure how long my role as media dispersal agent will be going on. I don't mind it… I'm a morning person, after all, but this has been a particularly trying week for winter coastal paper delivery.
Take Friday, for example. I had to break out the chainsaw to clear two fallen trees from the road into the parking lot before I even got started with the route. So I'm out there at 5am, with the headlamp on and the delivery pouch over by the side of the road, next to the gas can, and I'm thinking, "How many paper boys need a chainsaw to get their route done?" It's got to be a pretty small demographic.
And tomorrow's Sunday. That's the big paper, dammit. A thankless job, I tell you, this home delivery of newsprint. And one that will not be around much longer…