Orange Crush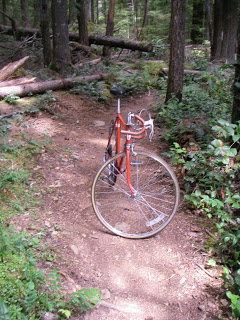 It is not a glamorous thing, this shuttle bike of mine. It is a Schwinn Varsity (the model that many of us, of a certain age, owned growing up). It is orange and heavy, with a little rust in some places and scattered irregularities in its steel rims. It is no longer a ten-speed, although all of the sprockets are still in place. With a little coercion, I can usually get it to operate in three gears, maybe four, which makes the uphill portions of any shuttle a rather tedious process. I have dubbed it the Orange Crush.
It may not be much of a bike, but then, I am not much of a rider. I've used it mainly for backpacking trips, riding a few miles here and there on logging roads to get to trailheads. It saves time and, at the end of the trip, when the legs are the most fatigued, it saves wear and tear. I've used it on quite a few river runs, sometimes even carrying it with me in the canoe, its front tire propped hard against the gunwale. It will play a role in the trip coming up, soon to be taken from its perch in the garage and pressed into service once more.
It is not particularly good looking. It creaks and rattles and none of the bolts seem to like being tightened. The brakes work, though not well, and every downhill stretch is a crap shoot. Still, I can't complain. The O.C. cost me $10 a couple of years ago and it's been worth every penny. Over the course of the next six weeks or so, I expect I'll be riding more than a few back roads between start and stop points, stashing it in the bushes where it will stay until I come back in the van to claim it. I usually hide it well, although I doubt anyone would get overly excited about stealing it.
The shuttle rides on Orange Crush are sometimes the most dangerous and exciting portions of the trip. I'm grateful for the lift and there's a part of me that is fond of this machine, but through it all, I remain a reluctant cyclist.