Oooh, the colors
There are a few new ferries being built around these parts. An embarrassment of oxidization doomed a bunch of them a couple years ago… four were pulled at once and I can't remember how many ferries were taken out in total. Most of them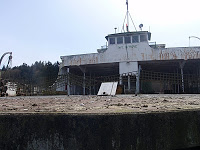 are bobbing at dockside up in Winslow, or were last year, their signature green and white paint slowly becoming the all-over color of seagull excrement and rust. Six new ones are in the works (the first to sail will be the 64-car
Chetzemoka
, due to begin hauling in August on the Keystone run.)
Another one in the line that is likely destined for the Port Townsend – Keystone route is, as-yet, unnamed. The Washington State Transportation Commission is taking suggestions for a suitable handle for her, and several are being seriously considered.
Tokitae
(Coast Salish for "nice day, pretty colors");
Squi Qui
(a Skagit elder from yesteryear); and
Kulshan
(the native name for Mount Baker). There are
others
, and I'm sure they all have merit, but I'm partial to the "nice day, pretty colors," idea. Sounds like the parking lot at a Phish show.
You have until the end of the month to get in the act. Send your suggestions to the Transportation Commission… but good luck coming up with anything so fine as Tokitae.