One more whale story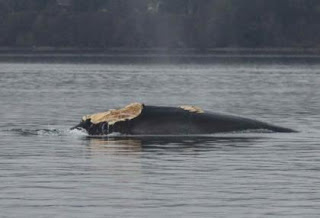 There's a mortally wounded whale in the south Sound, somewhere down near Olympia.
Reports
are that it's either a sei or a Bryde's whale, both of which are rare species in general, and particularly uncommon here in inland waters. Speculation is that it was struck by a fast moving boat with twin screws, putting deep lacerations in its back that have exposed not only blubber, but parts of its spine. It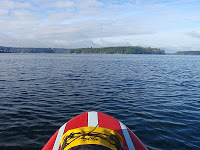 is a goner – the only questions that remain are where and when.
Yesterday's weather was especially welcoming and, even though I have a daunting list of essential tasks that are well past due, I took advantage of the sunny day. I put in at Boston Harbor on the SUP and paddled out to Hope Island and back, keeping an eye out for the unfortunate whale as I went.
I never did spot the poor guy but I had a good paddle anyway. Hope Island was beautiful and empty, and Squaxin Island sat clean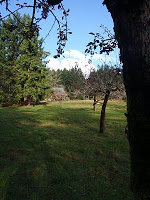 and untouched to the north, looking much the same as it has since the last of the glaciers left the area thousands of years ago. The wind picked up on my return and I got from Hope Island back to the boat ramp in about 45 minutes, surfing the wind-swell the whole way.