On the nightstand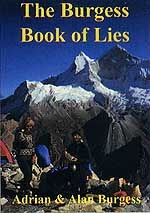 I've been reading climbing books lately. My reading list goes through its varied phases and right now, I'm in the middle of a re-read of the
Burgess Book of Lies
, a vintage collection of mountaineering tales written by a pair of delightful British climbing hooligans, twins Alan and Adrian Burgess. They mix intense climbing narratives with colorful anecdotes of the hard-drinking, dope-smoking, dirtbag climbing lifestyle of the 60′, 70's and 80's… It is hard to read it and not wish that I could go back there, to that icy ledge or silent alpine hut, to those smoke-filled bars of Chamonix.
Yeah, the editing could have been better. Typos abound, and the authors often contradict themselves several times in the space of a page or two but, damn, they have good stories. It's not like any of us readers are perfect or anything. Whether you think they were noteworthy climbers or not (and I do), they do have a gift for the tale.
It all seems so long ago, and so far away.