Old Faithful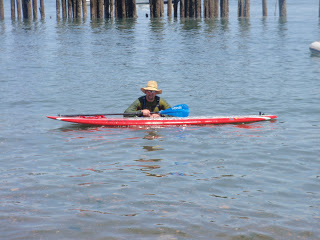 I got my first SUP in August of 2008. It was a demo board, scratched when I bought it, but in reasonably good shape. I rode it almost every day for the first year or so, to the point that it became an extension of my feet, allowing me to walk on water.
I rode it through calm backwaters in Puget Sound and surfed it on overhead days in Santa Barbara. Not too long after I picked it up, I did a 150-mile winter trip on it, carrying my camping gear and other supplies in drybags on the nose, strapped down to eyelets I had glued in place. Those same eyelets were employed as handles when my son was smaller, riding shotgun like some kind of aquatic hood ornament, trailing a finger or a toe in the water as we glided along the nearshore of Salmon Beach. That old board was tied to the roof of the van for months at a time, not because I had nowhere else to put it, but because I used it so frequently.
I got other boards after that one, boards that surf better or are faster on flat water, but the first is always the first. On that initial ride, I took it out from Owen Beach on a languid Saturday in August… the most recent time I used it was this morning.