Of watches and warnings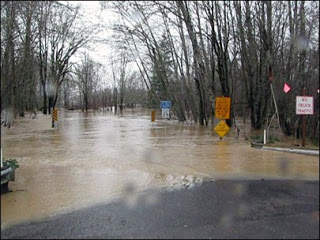 It's flooding season again here in western Washington. Of course, we're talking about a season with notoriously elastic boundaries, some years beginning in January and ending in December. That said, spring is often a time of high water around these parts, when sandbags and insurance coverage are often pressed into duty.
At some point, within 24 to 48 hours prior to a storm's arrival, the National Weather Service releases a list of counties that are prone to flooding and that are expected to be impacted. These are Flood Watches, and this morning there is a flood watch issued for 10 western Washington counties: Pierce, King, Clallam, Whatcom, Jefferson, Mason, Thurston, Skagit, Lewis and Snohomish. The advisory runs through Friday afternoon.
A Flood Warning, on the other hand, is issued for a specific river when it has been determined that flooding is imminent. With freezing levels headed up to 7,000 feet and higher, and forecasted rainfall of up to 6 inches, it's a lock that there's going to be some water where it's not supposed to be.
I would expect to read the word "Skokomish" in the paper tomorrow, possibly on Page 1.