October sun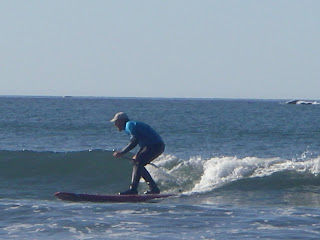 Best waves of the summer, especially considering summer is over. That was the Hobuck Hoedown for me, just wave after perfect wave, set in the most beautiful blue-sky days imaginable. The contest itself was no big deal for me – there weren't enough SUPers out there to make a competitive heat – but the waves were hip-high and regular, and the rising tide was the ideal surfing environment.
There were a fair number of kayaks at the event: surf skis, wave skis, surf shoes, zippy little sit-on-top jobs that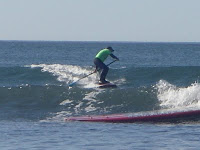 fairly danced on the waves as they flew toward shore. I didn't count, but I figure there were about 40 or 50 people in attendance, which is pretty good, I guess. Some excellent paddlers too, and even the sea kayakers were carving up their waves like they were piloting hot knives through butter. It was fun to watch and even though the SUP portion of the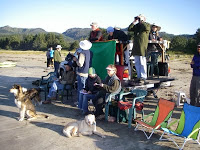 event was a demonstration-only gig, I treated it like a competition, went hard, and caught more waves in 20 minutes than I ever had before.
The Hobuck Campground is the same delightfully neglected place it has been since it was opened a few years back. You roll in, find a spot, and set up camp. There are no designated sites, no park rangers making rounds, very few rules that I've been able to discern. It's the most laid-back beach camp I'ver ever seen and I hope it stays that way… I love what they haven't done with the place.
We surfed all morning on Saturday, until the tide started to fall at about 12:30. A quick lunch and then we were back out in sea kayaks this time,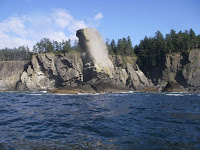 for a run to Cape Flattery. The water was lumpy and the wind was gusting against us for much of the way there, with monster swells keeping our attention focused seaward, but once we got to the waters at the Cape itself, things were more calm. The level was still high enough (barely), to get through one of the arched passages near Hole-in-the-Wall, and we were able to get into the big cave just north of the Cape as well. A short snack stop on the little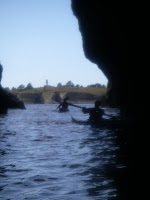 beach at the Cape was all the time we took before turning around and heading back. It is an amazing place and to see it from kayak-level is humbling. Every time I go, I am gobsmacked by the sheer beauty and power that resides there.
I don't know how many more surf days I'll be able to shoehorn into the schedule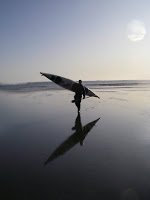 over the next month or so, but I feel like I got well repaid for the effort this weekend. That high will last for a while.