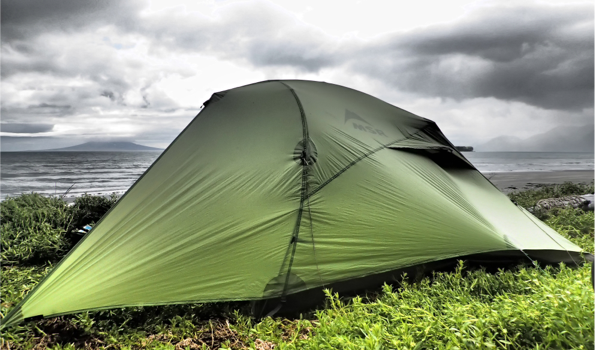 The Nook Backcountry Tent by MSR
I am always looking for a new tent. I had one that I really liked but it's been in need of some repair for a while now and I've been using others that I had out in storage, remembering the specific reasons that I no longer favor them. None of them are terrible, exactly; it's just that I've been looking for something a little different.
And I've found it. For a 3-season tent, the Nook, by MSR, is everything I want and nothing I don't. At 3 lbs. 2 oz. it's a light one, but it saves weight in the right places… there's no sacrifice in performance just to get the poundage lower. The pole system is easy to figure out – even in the dark with sand blowing all around – and it sets up quickly with a small footprint. For maximum stability in windier conditions, there are tie-down points all around and it's possible to get it snugged down to where it's almost silent, even when the gales are blowing.
It's lightweight, but it doesn't have quite as much mesh as others its size, which makes it a better option for colder climes. Excellent breathability, ample door size and easy to sit upright inside. As with all tents, the sizing is less-than-precise… it's listed as a two-person tent, which is pretty optimistic. Still, as a solo tent, especially in a paddling environment where the weight is less of an issue, it's the ticket. Separate the poles from the fabric and you can compress it until it's not much larger than the size of a softball.
I used the Nook this past summer on the Ikkatsu Project's Alaska expedition. In winds of over 35 knots and in some pretty creative camp spots crammed into the high tide line, this tent earned its place on my gear list. It makes sense… MSR makes so much of the equipment I know and trust already. I can add the Nook to that list now as well.