Names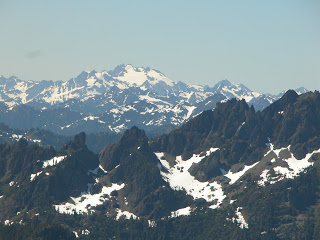 There's a movement afoot that is getting some press time, to change the name of Mount Rainier. Native American tribes in the area referred to the iconic Cascade peak as
Tahoma
, or
Takhoma
, and there are those who say that these earlier names are more appropriate and more authentic than its current moniker, a tribute to Rear Admiral Peter Rainier. This navy buddy of explorer George Vancouver (the man who hung the name on the mountain in the first place), was a pompous, obese British officer who actually commanded forces against American ships during the Revolutionary War. He was the enemy. Hardly seems right that he should be remembered in such a grand fashion. The Indian name, because it predates the current one, should be returned.
That's how some people, good, patriotic people, see the situation.
But consider this: Elk Lake, on the flanks of Mount Olympus, was once called Beaver Lake. Glacier Pass, farther up the mountain, used to be known off and on as Hoh-Blue Pass and Blizzard Pass. Morse Creek, near Port Angeles, used to be called Chambers Creek. Lost Cabin Mountain had its name changed by the Press Party to Mount Brown (after Amos Brown of Seattle, a prominent Seattle lumberman in the early days), then saw its name changed back again to Lost Cabin Mountain years later.
When it comes to things like mountains, rivers and other unique features of the natural world, just because one name is older than another might not mean all that much. Geologic time is slow to unravel, and human perspective is so foreshortened. Ultimately, the mountain doesn't care what you call it; it is simply there. The river doesn't answer to any particular name; it flows to the sea just the same. Arguing about the validity of the term that should be used in these cases completely misses the point.
Whether it's Rainier or Tahoma, McKinley or Denali, Everest or Chomolungma, the mountains remain the same. Even if the name on the map were to change from the Olympics back to the Sierra Nevada de Santa Rosalia (the first name given to the range), the peaks themselves would look no different. Mountains, rivers and the rest occupy a completely different timeline than the one used by mortals and it can be a humbling (but useful), revelation when this lesson finally sinks in.