Mountain time again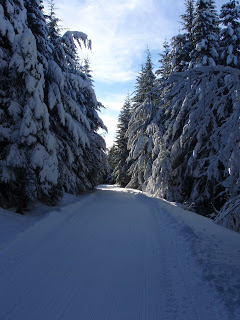 There's a rain on again today… the trails in Point Defiance are bound to be muddy. Not that I mind, especially. Just an observation. I guess the up side to that is that, at the higher elevations, the snow is falling. I've got a considerable backlog of stories to do for visitrainier.com – snowshoeing and xc skiing pieces, mostly – and I am going to need to block out a few days to get them done soon.
Which reminds me, I need to get my skis back from John. He was doing a tune on some rather ancient Chouinard sticks that I picked up this summer… I hope he's got a chance to get to them.
Normally, I take my water in liquid form rather than the frozen kind. Everybody has their natural environment and water – wet water – is mine. Preferably salt water. But you don't buy a book and read one page over and over again. There's work to be done in the snow and I need to get to it.