Mount Rose, and other tales of naming rights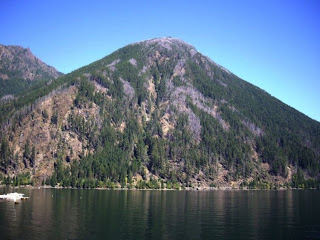 Mount Rose, at 4301 feet, must have had a name before this one. It's not a major peak, even for the diminutive Olympics, but I would expect the Squaxin, the S'Klallam and others would have hung some name or another on it before Lt. George Davidson, in 1857, anchored near what is now Seattle, put the rosy tag on her. He went on a tear that day, did Lieutenant George, naming the cove where his ship lay at anchor
Fauntleroy
, after the man who would soon become his father-in-law. To the west, the Olympics were silhouetted against an orange sunset, and he set about naming a few of those for other members of his new family:
Ellinor
, for his intended,
Rose, Constance
and
The Brothers
. A truly amazing exhibition of future son-in-law suckuppery.
Consider also:
Mount Carrie – named by surveyor and mapmaker Theodore Rixon for his wife, Caroline.
Cowan Creek – named for George Cowan, superintendent of the Filion Mill in Port Angeles in the 1890's.
Hayes River – named for Christopher O'Connell Hayes, youngest member of the Press Expedition.
Gladys Lake – named by Clallam County Sheriff's Deputy Fred Rice for his wife.
Bensons Point – named for early Lake Ozette settlers, the Andrew Benson family.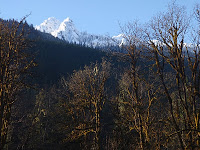 Mount Clark – named for Irving Clark Sr., early proponent of Olympic National Park.
And so many more, some meaningful, some not so much. The naming process, here and elsewhere, often seems downright impetuous.
I saw a snowy peak the other morning, just south of the Dosewallips. With the sunlight beaming on its eastern flank, a stone block rising above the dark forest below and the impossibly white summit blazing into my eyes, I could have named it myself, if things like that were still permitted.
And if it weren't already named Mount Jupiter