Mother's Day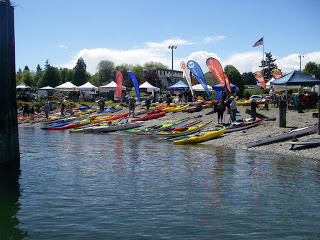 I drove back to town last night from Port Gamble so I could be here for Mother's Day breakfast. Making pancakes with the boy and taking them upstairs for breakfast in bed is something that's well worth the drive.
Of course, it means I'm driving back out there again this morning for another day at the Port Gamble paddling foofaraw. Hard to really assess how it's going, at least at this point, but they sure got the weather for it anyway. Sunny and warm, as long as you find a spot out of the wind, and the scenery is fantastic. I was able to get a couple paddles in on my own (Bywater Bay was a pleasant surprise… more on that another time), and I taught a SUP class at a symposium for the first time as well.
It's not a long drive and I don't mind the extra loop. It's funny, but even with all the paddling I've been doing up there, it's still nice to be back in town for my morning ritual on the Foss. I missed it yesterday.
And, even though it's barely 4:30am, the sky is already turning light. And that's all right with me.