Morning musings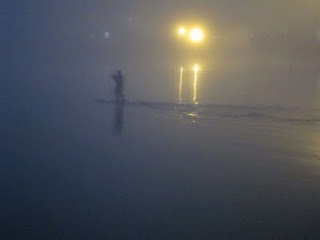 I wonder what they're doing in Costa Rica this morning. I wonder, as I pull on my long johns (top and bottom), what they wear when they go out for their morning paddle. And then, as I get into my second layer of insulation (again, top and bottom), I think about it some more. Palm trees, white sand, rainforest and blue, blue water.
The kettle boils and I drop the tea bag in the thermos before climbing into my outer layer. Goretex pants and spray jacket, then Nomad boots over thick wool socks. Once I locate my gloves and fleece hat, I'm ready to go outside.
All these layers of clothing are basic protection, something between me and the forces of chill and darkness.These frosty mornings I feel like the outdoors is somehow out to get me. I bet it doesn't feel like that in Costa Rica.