Morning medicine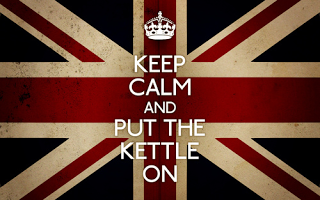 If you feel under the weather,
If you feel a little bit peeved,
Take Granny's stand-by potion,
For any old cough or wheeze.
It's a cure for hepatitis, it's a cure for chronic insomnia,
It's a cure for tonsillitis and for water on the knee.
Tea in the morning, tea in the evening, tea at supper time,
You get tea when it's raining, tea when it's snowing,
Tea when the weather's fine.
You get tea as a mid-day stimulant,
You get tea with your afternoon tea,
For any old ailment or disease,
For Christ's sake, have a cuppa tea.
The Kinks
There's a fog lying low on the water outside. It's not raining at the moment but it did rain during the night and it looks like it won't be long before the next round. There's no wind and the Narrows is calm and quiet as the light grows in the morning sky.
I didn't go for a paddle this morning. There will be time for that later, when the wind and the waves pick up. Right now, I'm taking my cup of tea outside, to sit on the deck and watch the day come alive.