More details later
Stand Up for Watertrails
Part I Belfair – Dawatto Bay
Feb 27 Belfair State Park – Menard's Landing 12 NM
Feb 28 Menard's Landing – Dewatto Bay 6 NM
Came up a little short today. Brutal shuttles both days, but today especially.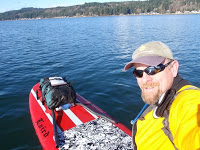 Yesterday was like a dream… perfect calm water, blue sky. I jumped in twice just to cool off. Today was windy and cold. Most of the miles were with the sea kayak paddle, on my knees or on my butt.
And so it begins. I'll post a more detailed account later.