Mittens recommended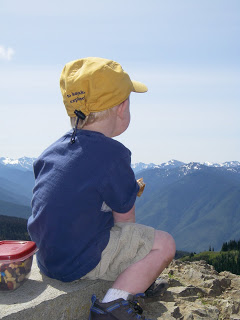 If you're looking for a snowball fight, you'll want to consider Hurricane Ridge. There is still four feet of the white stuff left at the measuring station near the lodge, but it probably won't be there too much longer. Most of the trail to Hurricane Hill is clear of snow already and what is left is melting.
Total snowfall this year for Hurricane Ridge is 364 inches. Although it's well short of the record 747 inches that fell during the 1998-1999 season, it's still a respectable amount, one that many places in the Cascades would be very happy to have had. While snowpack was less than normal almost everywhere else in Washington this winter, the Olympics did fairly well, and snow is going to last well into the summer in some of the higher elevations.
It's been a long time since I've been to Royal Basin. I'd like to go again, but I may as well wait for a month, at least. I'd like to make the return when it feels like summer.