Military spending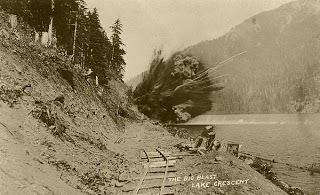 The Spruce Railroad Trail, just west of Port Angeles, is a four-mile section that connects the North Shore and the Lyre River trailheads and runs along the scenic shores of Lake Crescent. It's not backcountry. But it is beautiful.
The original right-of-way was constructed during World War I by the Spruce Production Division of the Army, but it wasn't completed until the war ended; not a single spruce ever made it to the Eastern Front. The railway operated on a limited basis until the early 1950's and then it was gone too, just like the Spruce Production Division. What remains is a low-elevation, mostly level hiking or mountain biking trail, usable year-round and easily accessible.
I bet it's pretty muddy right now.