Mid-September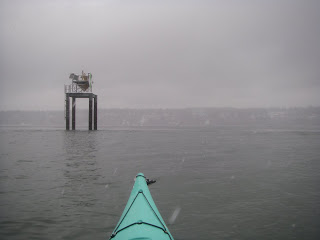 From a kayaker's standpoint, September is the transition month. If you are a casual kayaker, one of the solar-powered paddling dilettante set, it is the end of "kayaking season," whatever that means. (After all, it's not like
eating season
is over when you put the barbeque away.) For the 12-month paddler, September brings the time that signals the change from benign summer conditions to the chill of winter. It's not cold yet, not really, but it will be soon. Digging through the closet inventory to locate the fleece and the other insulation layers hidden away since spring is an autumn rite for sea kayakers looking ahead to the darker weather.
It's also been a time of the year when kayakers can look forward to the end-of-summer sales and customer appreciation events from retailers – precious few of those going on these days – as well as the big shindig out at Fort Worden, the West Coast Sea Kayak Symposium. In years past, I have given slide presentations and taught clinics at this event, and have come away from the weekend excited and fired up for the kayaking adventures still to come. This grand happening has changed as well, just like all those other things, and from all indications, the change has not been for the better.
I just finished the last Azimuth Expeditions trips of the year this past week: an Oregon coast trip that traveled through some of the most amazing sections of Oregon's bays and estuaries, and a 4-day San Juan trip that traversed the finest and most beautiful areas on the eastern side of the archipelago. I am glad to be finished – I enjoyed it all, but I am tired now – and I'm looking forward to putting the finishing touches on next year's schedule here in the next few weeks.
I'm going to the Port Townsend symposium next week, but not for the whole thing and only as a spectator this time.