Marymere Falls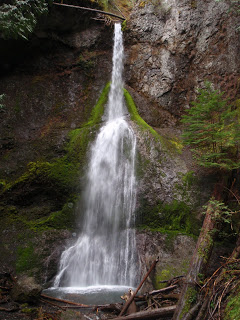 It's not exactly backcountry, but you can almost see the wilderness from here. Marymere Falls is one of the more popular short hikes near Lake Crescent because of the relatively easy trail and its proximity to the road. If you go, it's unlikely you'll have the place to yourself (unless it's winter), but it's still worth the trip.
It looks like there's a new bridge about to be put in that will cross Barnes Creek, replacing a hand-hewn log span that has become a tad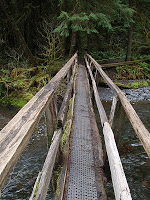 bit wobbly over the years. The log bridge across nearby Falls Creek is newer and will probably last for another decade or two.
The falls themselves drop about 90 feet from Aurora Ridge to the pool at the base, then cascade down the side of the hill to the confluence of Barnes Creek, about 300 yards downstream. A ribbon of water shoots from the gap at the top and streams down until it hits a rock outcropping and splits into other channels, with mist and spray continually swirling upwards.
It's a beautiful place, in the special way that waterfalls are all beautiful places. There's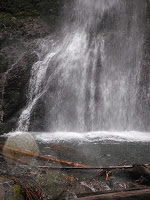 something about the mix of water and gravity that compels us to look, and look long, when we encounter it in the wild.