Looking down the route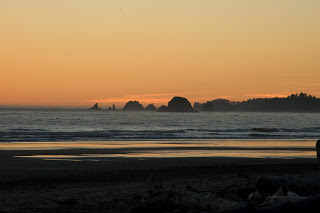 We'll be at Shi Shi Beach for Independence Day. I have a feeling we won't be alone at that point. It's a popular hiking destination and I think there will be a few others who may happen to have the day off.
The weather looks pretty good for this leg of the trip. (It's hard to take a 10-day forecast for Washington very seriously, but there it is.) A little rain and coastal gloop at the start, and then nothing but sun. Of course, they may just be suckering us in.
Other than the first night at Portage Head and the next two at Shi Shi, we are planning on a couple nights down near Wedding Rocks and another couple in the Cedar Creek neighborhood. The last night will be a little closer to Cape Johnson (not sure exactly), and we're hoping to get into La Push sometime around mid-day on the 10th.
Preliminary hopes are to be able to get about six complete surveys in. I'd like to do more, and it is possible that we'll have time for another one or two, but if we get a half-dozen of them done, I'm going to feel like we did our job. We'll also have some chances to do a few I & C's (Inspect and Collect) on some of the smaller beaches along the way and I am especially interested in doing those near the start and the finish points, places we might be able to return to in October when the larger volumes start to come ashore.
We're going to be doing a daily video report for CNN on this leg too. That just came about yesterday and I'm not sure of all the details, but it's kind of exciting. I suppose it will all hinge on what the connectivity is out there (which is not especially great), but we'll have to play it by ear. People are definitely noticing what we're doing though, which is the first step to maybe getting the mess cleaned up. 
That's about it for now. I don't expect to be updating this space until I get back, but you never know. Mostly, I expect wild mornings on a primal coast, nights of stars and ancient memories around a roaring driftwood fire. This is a coastline that has never failed to live up to (and exceed) my expectations. Bring it!