Life during wartime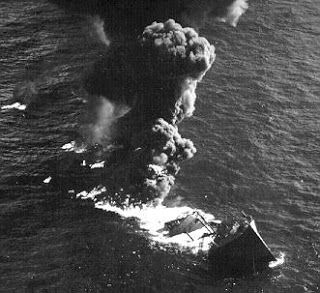 My father is a veteran. British Navy, WW II. Most of his action came in the South Pacific and Indian Ocean, as a radio operator on Her Majesty's destroyers. He had one of them torpedoed out from under him and spent a few months with his surviving crew members hiding out in the Cocos Islands until he was picked up by friendlies and taken to safety in Australia. I wish I knew more about it than that but he never really talked about it that much.
Likewise, my wife's father is a veteran. He's a bit younger than my dad so his theater of operations was Korea, where he worked in the motor pool. Mary was telling me the other day about how he was riding in an infantry convoy when the vehicle he was in broke down. The Sarge-in-charge told him, "You're the mechanic. Fix it." (I'm guessing there was more to the command than that, but there you go.) After troubleshooting the problem and finding it to be coming from the carburetor, he whittled a replacement part out of wood, snapped it in place, and got the vehicle and its occupants out of harm's way.
So many more stories are out there, never to be told. Tales of perseverance and inventiveness, courage and strength. And more stories are being written today as well, by a new generation of brave soldiers, sailors, airmen and Marines. To Jim Campbell and Gerald Rink (and the millions of others who served, in good times and bad), Happy Veteran's Day.