La Playa del Muerto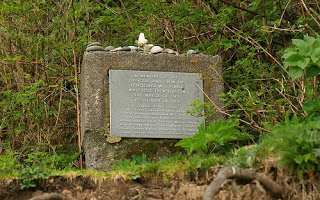 Not far from the site of the Norwegian disaster sits another memorial, similar in some ways to the first. The deal went down in November of 1920, when a Chilean ship, the
W.J. Pirrie
, was being towed by another vessel, the
Santa Rita
, near Cape Flattery. Upon rounding the tip, the ships were hit with winds that approached 100 miles per hour and it wasn't long before the situation turned desperate. The captain of the Santa Rita, faced with the prospect of both boats being driven onto the rocks, made the fateful decision to cut the tow line, thus giving his vessel a chance to escape the imminent destruction and make its way out to deeper water.
The Chilean ship was not so fortunate. In very short order she was blown about a half-mile from the place where the tow was terminated to the unforgiving rocks of the Olympic coast. Of the 22 people on board, only two survived to tell the tale.
Ironically, back in 1893, another Chilean vessel met its fate along this same stretch of coastline. The Leonore was nearing the end of its long voyage from Irique, bound for Puget Sound, when it encountered winds very much like those that would shatter the W.J. Pirrie almost 30 years later. The result was the same: total destruction, the five souls on board claimed by the angry sea.
This is a serious stretch of water, this roadless coast, this "Beach of the Dead.".