Kittson Island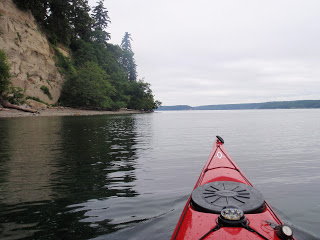 There's a small islet in south Puget Sound named for the one-time Chief Factor of the Hudson's Bay Company down Nisqually way. 
Charles Wilkes, when he drifted through these waters back in the mid-1800's, was a naming fool, hanging a name on every island, point and waterway he came across. The way he saw it, since actual ownership of the territory was an item of dispute at the time between the US and the Brits, the more Yankee names he assigned the better. Maybe if enough things were named by Americans that would make the whole place part of America in the long run.
It is a measure of the power of his idea that, in the end, it worked. There were other factors, to be sure, and it all wound up focused on who killed who's pig on San Juan Island, but the Wilke's naming expedition played an important part, the fact that he named this particular island after a British citizen notwithstanding.
And in the end, maybe Kittson Island didn't play as much of a role as other places, since the name got corrupted fairly quickly into Ketron Island anyway. The little gem sits off of Steilacoom and has a smattering of houses up on the high ground at the north end and a whole lot of green everywhere else. (There's one house down near the water at the northern tip, but all the others are up top.)
The ferry runs here infrequently, but most of the residents have other ways of getting over to the mainland. It's a quick paddle most of the time and though the currents in Cormorant Passage can get up to 2-3 knots, they are easy to work around once you know where the stronger sections are. A close-in spot that seems farther away than it really is, especially around on the west side, where the views are all of Anderson Island and the sounds of the mainland disappear.