King of tides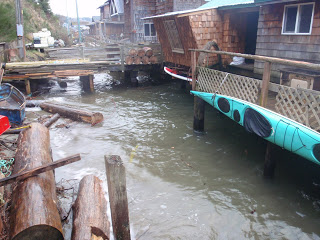 The last week of 2011 will feature some of the highest tides of the year. They're called "King tides," a term that emphasizes either their size or the fact that they are tidal royalty. I guess. The explanation involves the combined gravitational pull that comes when the sun and moon align, pulling more water higher up the beach than normal.
Seriously, they started on Tuesday and will continue through today and tomorrow in the mornings and, depending on where you are located, they will either be monstrously huge or maybe just a little above average. The state Department of Ecology is asking for photos to be submitted to its Flickr site (budget cuts?); for specific instructions about what exactly to photograph, you can visit
ecy.wa.gov/climatechange/ipa_hightide.htm.
If you miss these ones, the next set of king tides will arrive January 13-17.