Kenstruction
I'm sore. Feeling my age, I suppose. Normally, I feel a little fatigued after a couple days of paddleboarding, not before.
But I'm leaving today for Hood Canal, gonna do a couple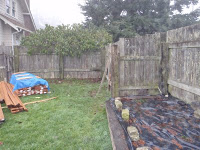 days on the water and see how far I get. It's my reward to myself for getting the fence done. ("Done" may not be the ideal word to describe the current status of the project, but it's done enough that I feel a couple of days away from the hammer and the saw are in order. The last two days have been dawn-to-dusk workfests, and I have moved a lot of wood around.
Building the fence actually went pretty well. The long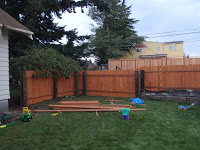 sections went up quickly but the gates took longer and were more involved. It is always easier to build walls than doorways. That's true for life in general – it is a reality not peculiar to construction projects.