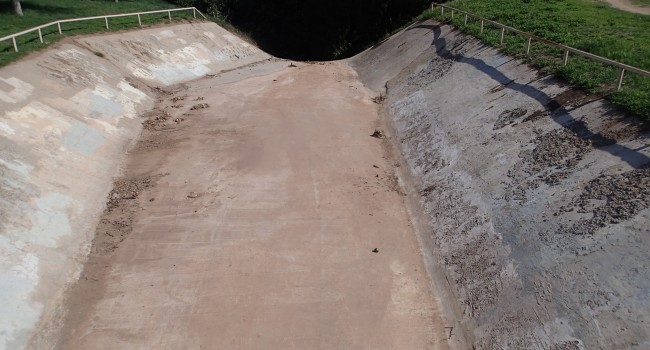 Kellogg's
I don't remember the year for sure, but it had to be 1976 or 1977. This place was one of the hot stops on the Goleta Valley Drainage Ditch and Empty Pools Tour back then and all of us who had aspirations of being the next Tony Alva or Stacey Peralta spent a good many hours in places like this one. We kept it swept out better and there would have been a selection of plywood scraps laying about back then – used as approach ramps and as a way to get higher than the concrete – but the place looks pretty much the same. It's funny… I haven't been here in over 30 years but I went right to the spot without hesitation. The directions to this place and a handful of others have been ensconced in one of the deeper safe areas of the brain and I suppose they will stay there with me until my final hours. Funny how that works.
I remember one evening at Kellogg's when I took what would be one of the hardest hits to the head I've ever gotten. I was skating with a few other kids from that neighborhood, nobody I knew, when my wheel caught a rock right as I came off the wall and sent me flying directly down to the floor of the ditch. The first body part to make contact was my head; I have no idea what the second part might have been. I got tunnel vision for a minute or so, blood was draining rapidly from a couple of head lacerations and my hands were pretty cut up as well. I couldn't say which concussion this one was, but it was definitely one of them. I remember picking myself up off of the concrete and the other kids that were there not looking particularly concerned about what had just happened. There were no helmets back then, at least not among the other skaters I knew and although the others probably felt bad for me, my injuries were nothing out of the ordinary. It's a little surprising that any of us survived the 70's.
Today I did not skate.