Keeping dry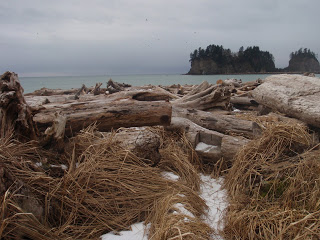 In what was something of a victory for tribal interests (and common sense), the Quileute Nation was granted 785 acres of Olympic National Park land last week, which will allow the tribe to move houses and facilities to higher ground, away from the tsunami zone. The town of La Push, where almost all of the tribe's members make their homes, is subject to seasonal flooding and its seaside location, while stunningly beautiful, puts it at considerable risk in the event of tectonic surf.
The tsunami that decimated parts of northern Japan last year was one of the drivers of the land deal. Maria Cantwell, one of Washington's senators, said that the Japanese tragedy "sent another urgent message and a wake-up call to hurry to get this legislation past Congress." (It is heartening to see that the wheels of government are still capable of turning at all, in my opinion, given the way it has been operating – or not operating – in recent months.)
In exchange for the land, the Quileute have agreed to permit access through tribal areas to ocean beaches, in perpetuity. Which is a good thing, I think.