Justice delayed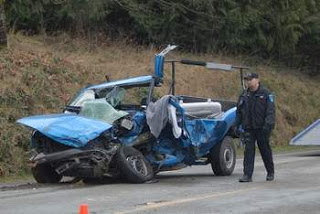 I went to the peninsula the other day, a little surf safari before the summer ends. On the way, I stopped by the courthouse in Port Angeles for the latest hearing for Amber Steim, the woman who plowed into Ellen DeBondt's truck back in March. (See above photo). It was a quick affair, this hearing. Pretty much a legal sprint by the defense, with the upshot being that everyone agreed to meet later on – September something – to talk about it all some more. Meanwhile, Ellen is still dead.
From what I've been hearing, the likely sentence, should Ms. Steim be found guilty, will be between 2 and 3 years. And all this time that her defense team has been stalling and stumbling, dork-dancing through the motions and counter-motions, all this time counts as "time served" for the defendent. In other words, if they do their job well, maybe she won't actually have to don prison blues at all. Much. Two years, maybe three… for causing the death of another person.
In Washington, a Class A felony convict will get an additional 5 years added to his sentence if a firearm is used during the commission of the crime. I don't know how much using a knife will get you. All I know is, if I ever aim to kill anybody, first I'm going to sink a few drinks… and then I"m going to use a car.