Just another Monday morning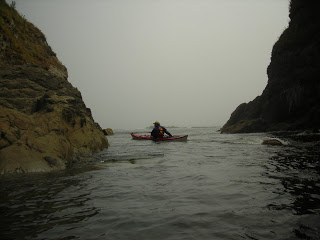 I should have slept in. I'm probably going to need my energy later.
It's raining, of course, but it's an otherwise perfect day for a paddle. Warm enough, for here, but falling somewhat short of summer. I'm leaving later this morning from Salmon Beach for the 25-mile stretch to Olympia, a lone sea kayaking day right at the beginning of the trip, before the canoeing starts in earnest.
I won't be going solo on the first leg: Adam, a fellow beacher and former employee of Backpacker's Supply is coming with me and I'm grateful for the company. I think I'm going to enjoy easing into the expedition this way and I don't mind if it keeps right on raining.
Day trips. That's all any expedition is, really, a collection of days, strung together to create a whole that is often turns out to equal more than the sum of its parts. But any long trip is still a matter of putting the days together. The days come and go, are placed end to end and counted up. Twenty-five miles, fifty, one hundred. And then, somewhere up near Cape Flattery, I'll reach the half-way mark and begin to count down.
I have expectations for the next 23 days (or whatever the final count turns out as.) I have a picture in my mind of every day that is yet to be, and for the majority of it I can draw from personal experience as I sketch out how I think it's going to unfold. I've been to most of the places before – with the exception of the swamp, the Chehalis and some of the lower peninsula coast. Even so, I know very little. Which is why I'm going.
That the Olympic Peninsula is an island is a fact that still grabs at my mind. I don't know why. Maybe it's because, as big and diverse as it is, as different as it seems to be from region to region, the watery border defines it as a separate entity, a place apart. This definition is what allows a trip like mine to happen at all. Like any other island, the Olympic Peninsula stands alone. The way to understand its different faces and to start to get a handle on the soul of the place is to view it from different angles, different perspectives. It is only technically an "island," I know, but technicalities have their value. The entire notion serves as a reminder that there are many such islands among us, and the more perspective we can get, the closer we'll come to understanding them, as well as ourselves.