It's beginning to look a lot like Christmas…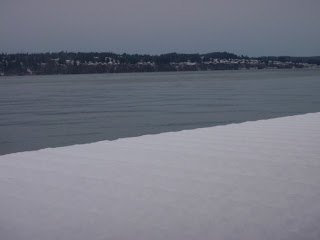 The weather oracles are calling for 3 inches of snow tonight and possibly another 2 tomorrow. Even if they're wrong by half, if we only get 2 1/2 inches around here, that's significant. I heard that even Friday Harbor had a couple inches by yesterday afternoon. I think that would have been a beautiful sight to see.
It seems that La Niña, which was expected to be a wet and cold winter, has been neither. Oh, it started off true to type, with icy winds and arctic airs. Long Johns cold. Wood stove cold. We got snow early and when it wasn't snowing, it rained. I have a recollection of three or four days back in November, when the fat, glossy drops were falling non-stop. The hill behind the house had some slides, though nothing serious came of them.
But January was purty. Not much precipitation and the mercury well above the frost line, for the most part. Ski resorts mumbled about an early close to the season; some bulbs in downtown gardens began to send up the first scouts of spring, way too early.
Mother Nature is making up for it all now, yesterday and the rest of today, at least. And then, after the snow stops falling, the winds will commence.